Love to TALK
ANT'S GAME RANGER DIARIES
The moments that followed seemed to drag on, as we summed up the situation and the potential immediate danger that we were now in. We were so close that we could actually smell the Ele and listened carefully for any sudden movements from him. Our Guides and Trackers remained calm and signalled for us to retreat from the scene towards a very large Fever tree that grew beautifully about 20 meters from us. The idea was to secure substantial cover and avoid any confrontation. Well, that was the idea and a good one at that.
As we began moving, the Ele heard us and came out the thicket to investigate these unfamiliar sounds that had rudely interrupted his morning snack. We were now literally caught between a rock and a hard tree, without cover and in no way, safe. What happened next remained with me forever.
read more
Marvel at the spectacular views of the unspoiled landscape that surrounds the Sand River from each of the 12 guest suites.
Bataleur Camp
Here, at this romantic and private camp, guests can experience an unsurpassed wildlife experience.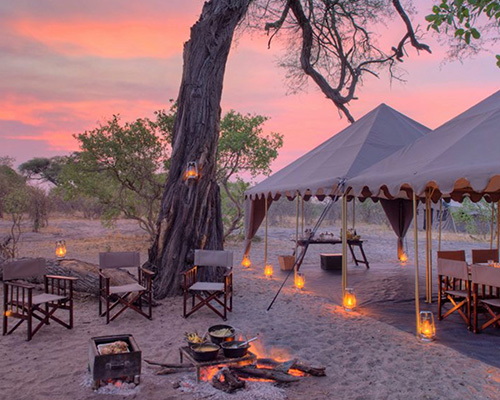 Chobe Under Canvas
Live out the adventure of a lifetime as close to nature as you can get in the relaxing solitude of the African landscape.
Have a Question?
Talk to Meerkat Portfolio now
Durban, KZN, South Africa