Love to travel
MEERKAT PORTFOLIO
Love to travel
MEERKAT PORTFOLIO
COVID-19 Corona Virus South African Resource Portal
Emergency Hotline: 0800 029 999
WhatsApp Support Line: 0600-123456
https://sacoronavirus.co.za/
Meerkat Portfolio is a South African based, Luxury Travel company focusing on Safaris, Conferences, Golf packages and bespoke travel itineraries for travelers all over the world. Our clients, travelling to beautiful Africa, do not have the time to plan their trip or find out where to go, book, eat, visit and simply relax, stress free! We pride ourselves in tailor made bespoke solutions, where we maximise a guest's experience through carefully selected purpose driven day to day experiences and activities.
We are here to listen to what you want, from East Africa, to Namibia, Botswana, Mozambique and South Africa. Apart from the value of Time, we believe fully in Exclusivity and all it has to offer. Whether it be a romantic getaway or as a block booking for a work function or an entire family, there is simply no cost that will ever come close to the opportunity of exclusivity.
If Luxury, Time and Exclusivity are non-negotiables when it comes to travel into Africa, then please choose Meerkat Portfolio, as your preferred choice of travel company in South Africa.
Discover
Phinda Mountain Lodge
A dramatic hilltop lodge overlooking the lush Lebombo foothills.
Perched on a dramatic hilltop overlooking the lush Lebombo foothills, this Big Five, family-friendly, luxury safari destination will steal your heart. Steeped in Zulu heritage, this lodge offers a spectacular experience, with its beautiful mountain-view suites, cottages and its one-of-kind family suite, with panoramic vistas, and access to a selection of unique safari adventures.
Discover
Chobe Under Canvas
Botswana's famous Chobe National Park is a must-see wildlife destination that includes the Savute Channel and natural beauty of the Linyanti River.
Marvel at the spectacular views of the unspoiled landscape that surrounds the Sand River from each of the 12 guest suites.
Bataleur Camp
Here, at this romantic and private camp, guests can experience an unsurpassed wildlife experience.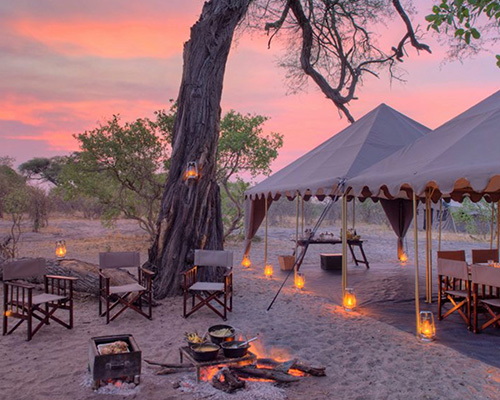 Chobe Under Canvas
Live out the adventure of a lifetime as close to nature as you can get in the relaxing solitude of the African landscape.
Tailor-made PACKAGES
To suit your needs
Cape Town & George Golf Holiday
10 Days, 9 Nights | From ZAR 31,018pp
Explore Cape Town, the Garden Route and play some of the world's most scenic golf courses.
Highlights of Southern Africa
10 Days, 9 Nights | From USD 14,120pp
Explore Sabi Sand Game Reserve, Victoria Falls, Okavango Delta, Cape Town
Grand South Africa Safari
8 Days, 7 Nights | From ZAR 56,015pp
Explore Johannesburg, Kruger National Park and Phinda Private Game Reserve in an iconic wildlife, thrilling adventure.
South African Safari & Mauritian Paradise
11 Days, 10 Nights | From USD 5,978pp
Immerse yourself in a Big 5 Phinda Private Game Reserve experience and head to the white sands of Mauritius.
Timeless Chobe & Delta Safari
8 Days, 7 Nights | From USD 5,455pp
Discover the best of both worlds on this iconic safari in Chobe National Park and Okavango Delta.
Best of Botswana
11 Days, 10 Nights | From USD 14,617 pp
An incredible journey across Chobe National Park, Savute, Okavango Delta and Makgadikgadi Pans.
Marine Big 5 and Big 5 Safari
11 Days, 10 Nights | From ZAR 109,947pp
Be captivated by iconic wildlife and the powerful creatures of the deep on this adventure in Sabi Sand Game Reserve and the Cape Whale Coast.
Best of South Africa
10 Days, 9 Nights | From ZAR 63,170
Experience the beauty of the Cape and an incredible experience in the Kruger National Park.
Thank you Meerkat Portfolio for listening and delivering on our every need. We "dreamed of Africa" as the saying goes and were completely blown away by the professional approach in which our entire trip was handled. We feel that it really helped having someone to deal with, who had actually been a game ranger and run a 5-star lodge in the bush. Ant knew exactly what we were looking for and asked us the right questions, to make sure that we booked according to our needs and requests
Have a Question?
Talk to Meerkat Portfolio now
STAY IN TOUCH WITH THE LATEST NEWS FROM MEERKAT PORTFOLIO
SIGN UP
STAY IN TOUCH WITH THE LATEST NEWS FROM MEERKAT PORTFOLIO
SIGN UP
PROUDLY ALIGNED WITH
&BEYOND
Thank you Meerkat Portfolio for organizing our trip to South Africa. Your attention to detail was simply out of this world and the way in which you ensured that our bucket list was married perfectly to our itinerary was greatly appreciated
We are seasoned travelers into Africa and only expect the best when dealing directly with a travel agency. Meerkat Portfolio delivered in all arena's and our holiday was relaxing and stress free, thanks to this service orientated company
Durban, KZN, South Africa